Starting in 2009, Club News will appear on this page along with EACF News.
Click on images for an enlargement
---
---
December 13 2009

December 12 2009

Soham
Soham
---
| | | | |
| --- | --- | --- | --- |
| December 2009 | Wrest Park | Newsletter ( 194 kb) | John Bevington |
---
November 14-15 2009

October 17-18 2009

Soham
Soham
---
| | | | |
| --- | --- | --- | --- |
| October 2009 | Wrest Park | Newsletter ( 208 kb) | John Bevington |
---
---
| | | | |
| --- | --- | --- | --- |
| October 2009 | Leighton Linslade | Newsletter ( 2,277 kb) | John Cundell |
---
---
---
| | | |
| --- | --- | --- |
| September 19 2009 | Sudbury | The 2009 'Crocks' Croquet Championship |
This took place at the Sudbury, Suffolk Croquet Club on Saturday 19th September. Fortunately, almost perfect weather conditions prevailed, so the tournament was rated a resounding success and much enjoyed by all who participated. However, its success resulted from 9 months careful preparation with sage advice from Jonathan Toye, who was disabled in a motor cycle accident, but overcame his disability to become a first class one handed croquet player and an inspiration to all disabled croquet players. The Sudbury Croquet club also had three disabled members and a qualified nurse in Bunty Dickison, so there was an awareness of the problems encountered by disabled players.
| | |
| --- | --- |
| | |
From the beginning of our research, it was evident that a full sized croquet lawn was too large for disabled people, so we halved our full sized lawn into two 5/7ths lawns, which were near perfect sizes for disabled players; also those who could use their legs were taught to synchronize leg leverage with arm swing to compensate for lack of strength and accuracy.
It was also realized that golf croquet, rather than association croquet, would prove to be more popular because it was more social, with all players participating on lawn and helping each other. Finally, we realized that games should be limited to 25 minutes or to the first to 5 hoops rather than to the conventional 7 hoops with good intervals between games.
In order to keep to a programme of starting times, there was double banking with secondaries starting 15 minutes after primaries; this resulted in good rests between games.
The tournament was on a handicap basis so that substitutes could be made for disabled players too exhausted to continue; in the event, three out of ten players needed substitutes, who not only gave generous bisques, but also helped their competitors to use them; Andy Ellbech, an SAS member who was blown up in Bosnia, benefited greatly from the sage bisque advice of the disabled ex chairman of Sudbury Croquet club, Robert Walpole, but despite the good advice, was beaten into the final by Sheila Frampton and Viv Hatfield. Both these ladies used their legs for leverage with synchronized swing of arms to produce some really skilful displays. The final was won by Sheila Frampton, who was presented with the Shield by the coach Paul Strover, who organized the Championship with Jonathan Toye.
Paul Strover
Photos by Melanie Outram
---
---
| | | | |
| --- | --- | --- | --- |
| September 2009 | Wrest Park | Newsletter ( 267 kb) | John Bevington |
---
| | | |
| --- | --- | --- |
| September 5-6 2009 | Wrest Park | All England Handicap Championship regional finals |
The winner of the Association Croquet All England Handicap Championship Area Finals held at Wrest Park over the weekend of 5-6 September was Geoff Johnson of Watford. Geoff goes on to the national finals at Roehampton on 19-20 September.




Standing L-R: Peter Hanley (Letchworth), Geoffrey Ellott (Ashby), Alan Brown (Colchester), Adrian Kirby (Peterborough), Colin Davies (Letchworth), David Haslam (Colchester)

Seated L-R: Terry Mahoney (Wrest Park), Geoffrey Johnson (Watford), Jeane Ackermann (Nottingham), Tim Brewer (Wrest Park), John Smallbone (Watford), Keith Huggins (Peterborough)
As a late addition to the calendar, Wrest Park will also be staging the final of the golf croquet Inter Club competition between Ashby and Surbiton on Saturday 26 September from 10 am - a late addition to our calendar. Any golf croquet players are of course welcome to come along and watch, but they would have to pay English Heritage the normal entry fee to enter Wrest Park. I might be able to wangle a discount on production of a CA or club membership card, but can't make any promises.
John Bevington
---
---
| | | |
| --- | --- | --- |
| Aug 29 - Sept 1 2009 | Hunstanton | 110th Annual Tournament |
Terrey Sparks
---
| | | |
| --- | --- | --- |
| August 8-9 2009 | Hunstanton | Hunstanton Golf Croquet Invitation Tournament |
Sunny Hunny again lived up to its reputation over the weekend of 8th and 9th August when it staged its second open handicap invitation golf croquet tournament, attracting 23 entries in the singles and 20 in the doubles, which were played in glorious sunshine.


Crowd awaiting the final

Jeff Race, father

Timothy Race, son

Timothy receiving the trophy

Doubles winners
Dick & Adrienne Strover
receiving the trophy

The singles played on the Saturday were organised into American blocks, from which the four block winners Dick Strover played Jeff Race and Timothy Race met Mike Percival in two very competitive semi-finals, which interestingly led to Father and Son meeting in the final. In front of a large appreciating crowd this proved to be a most enthralling game of cat and mouse. However, Jeff appeared to have taught Timothy well and he used his bisques convincingly, just winning by the narrowest of margins much to the enjoyment of the watching spectators.

Meanwhile the runner-up group play-off was won by David Crawford.

On the Sunday the Doubles were played as an Egyptian and were arranged on a pro-am basis. Despite some very competitive play the pairing of Dick and Adrienne Strover proved unstoppable, winning all their games and running out worthy winners.

On lawns that were a pleasure to play and ably managed by Ken Wheeler this is proving a tournament not to be missed in the future.

Terrey Sparks
---
---
| | | |
| --- | --- | --- |
| August 2 2009 | Norwich | An overseas visitor won the Norwich 'B' Level Tournament |
Jonathan Lamb (2) visiting from Uruguay won the Norwich 'B' Level tournament held on 1st and 2nd August with an unbeaten 5 wins from 5 games. His nearest loss came about when the manager, Neil Chalmers (7) substituting on Sunday morning for Feargal Smith who had been taken ill overnight contrived to lose from an ideal finishing position by -1 on time! The frustration of this loss obviously got to him as he failed to resolve correctly the finishing order of the next 3 players, Colin Hemming (2.5), Ian Mantle (3.5) and Jonathan Toye (8), who all finished with 3 wins out of 5 games. An honourable joint runners-up solution (possibly risking the wrath of the CA Tournament Committee) was agreed post tournament after scouring the regulations and the Oxford list. All would have been so much simpler if Colin had beaten Jonathan Lamb in the deciding game of the Tournament in which he came close. However, I now regard myself as a bit of an expert in resolving 3-way ties, so should get it right next time.
Other qualifying results were Mark Godfrey (5) and Peter Allnutt (5), 2/5 and Malcolm Daines (8), 0/5. This was Malcolm's first venture into the minefield of Advanced Play and although not managing to register a win he said he enjoyed himself and learnt a lot.
On his way to the joint runners-up position, Jonathan Toye accumulated enough index points including victories over his two co-runners-up to earn a handicap reduction from 8 to 7.
None of the Norwich entrants completed the required 5 games to qualify, but Feargal Smith (3.5) won 2/3, Terrey Sparks (3,5) won 2/4 and Neil Chalmers (7) won 1/4.
Thanks as always are due to Terrey and Pam for organising the catering on both days. Terrey would have played 5 games and qualified, but Morrison's doesn't open till 10.00 on Sunday morning!
Neil Chalmers
---
| | | | |
| --- | --- | --- | --- |
| July 2009 | Wrest Park | Newsletter ( 357 kb) | John Bevington |
---
| | | |
| --- | --- | --- |
| July 25 2009 | Leighton Linslade | Friendly match vs. Hunstanton |
On 25th July ten members journeyed to 'sunny Hunny' on 25th July to play a Friendly match against Hunstanton Croquet Club. The club enjoys the most wonderful facilities, both in terms of their five excellent lawns and clubhouse. The tournament consisted of 30 Singles and 15 Doubles games. To play that number on our two lawns would take two full days' play, however with five lawns there was no problem and it was not even necessary to enforce a time limit.
Our team consisted of John & Judith Cundell, George & Margaret Lawson, David & Jean Ball, Len and Eve Buckingham, Sally Clay and Roger Stroud. Unfortunately Jean Ball developed a back condition that meant she had to withdraw, so we were very fortunate to have Hunstanton's Chairman Terrey Sparks step in to replace Jean.
Both teams assembled before 10.00am on Saturday morning that had dawned one of the few beautiful days in late July – 'sunny Hunny' was living up to its reputation. After introductions all round and a welcoming drink, play commenced. The games were mostly very close and were all played in good humour and sportsmanship. The rounds alternated between Doubles and Singles with many going to the deciding 13th hoop. Play finished around 5.00pm and after a brief break, there was an enjoyable fish & chip dinner followed by a quiz and raffle, and an announcement by Hunstanton Chairman Terrey Sparks that Leighton-Linslade had won by 24 games to 21.
On Sunday morning, four members enjoyed a pleasant couple of hours playing Ricochet Croquet against four Hunstanton members – a simple yet intriguing game that certainly helps develop shot accuracy.
So ended an excellent weekend and LL left having made many new croquet acquaintances and a pleasing win. The obvious popularity and success for this event has led LLCC Events Secretary Tony Wells to look at similar outings in 2010 – and LLCC will hopefully be invited back to Hunstanton!
SINGLES

Wins

Losses

DOUBLES

Wins

Losses

John Cundell
3
0
David Ball & Terrey Sparks
3
0
Roger Stroud
2
1
John Cundell & Judith Cundell
2
1
David Ball
2
1
Len Buckingham & Eve Buckingham
2
1
Sally Clay
2
1
Roger Stroud & Sally Clay
1
2
(Terrey Sparks)
2
1
George Lawson & Margaret Lawson
0
3
Margaret Lawson
2
1

TOTALS

8

7

Len Buckingham
1
2
Eve Buckingham
1
2
George Lawson
1
2
Judith Cundell
0
3

TOTALS

16

14

Leighton Linslade won by 24-21

John Cundell
---

David Maugham
(winner)

Keith Aiton and Richard Hilditch
(runner-up and manager)

Jonathan Hills and Martin French
(Plate runner-up and winner)
Photos by John Bevington

See the CA website for detailed match results
---
---
Colchester beat Surbiton 4 - 2 in the Mary Rose at Colchester in a hard-fought match, winning very much against the odds (at least as far as handicaps go). The morning games went one-all, the singles game between Peter Allnutt and Graham Brightwell being pegged down to enable us all to have lunch. In the afternoon, the first two games to finish went to Colchester. David Mooney, playing below the handicap limit under the seven-day rule, fought back hard against Martin Leach, pegging him out and then getting his second ball round whilst Martin was only able to get from 4-back to Rover. Meanwhile, on the other lawn Peter Allnutt had established a good lead but seemed to be doing his best to snatch defeat from the jaws of victory, but then managed to hit in and finish just as his opponent had reached the peg with both balls. Perhaps he had suddenly realised that if he didn't win we would have to resurrect the pegged-down game (in which he was well behind)!
Full results (Colchester names first):
Martin Leach (2) & Colin Hemming (2.5) lost to David Mooney (0.5) & Mary Knapp (1) -7
Jim Potter (3) beat Chris Osmond (4.5) +17
Peter Allnutt (5) vs Graham Brightwell (2) unfinished
Martin Leach lost to David Mooney -2
Colin Hemming beat Mary Knapp +15
Jim Potter beat Graham Brightwell +7
Peter Allnutt beat Chris Osmond +2
Colin Hemming
---
---
---
---
| | | |
| --- | --- | --- |
| June 13-14 2009 | Hunstanton | Over 50's Tournament |
Local Member Triumphant at Hunstanton

Hunstanton Club member Bryan Saddington was the undisputed winner of the 'Jane Neville-Rolfe' over 50's Plate, competed for over the weekend of 12th-14th June at Hunstanton Croquet Club. In unbeatable form he romped home seeing off the opposition by winning all eight of his games.

In second place with 7/7 wins was Cliff Daniels of Kenilworth and third Mark Callan with 7/8, one of the club's two visitors from Australia. Georgeen Hemming, a recent newcomer to the game, managed to achieve her bronze award.

The tournament, which is staged annually, attracted a full entry of 20 players from around the country and was played in near tropical weather conditions.

Due to the previous week's heavy rain and later abundant sunshine the lawns proved to be a little lush and heavy going. However, this did produce that long awaited for suntan.

Terrey Sparks
---
---
| | | | |
| --- | --- | --- | --- |
| June 2009 | Leighton Linslade | Newsletter ( 754 kb) | John Cundell |
---
| | | | |
| --- | --- | --- | --- |
| June 2009 | Wrest Park | Newsletter ( 361 kb) | John Bevington |
---
---
---
---
---
| | | |
| --- | --- | --- |
| May 9-10 2009 | Colchester | B-Level Tournament |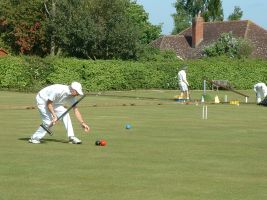 Alan Edwards prepares to take croquet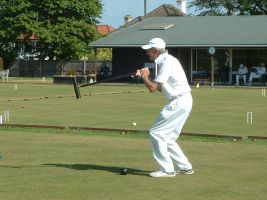 Alan Edwards swinging

Full results (

4 KB)
There was something sinister in the air over Colchester in the week leading up to this tournament. With 8 days to go we had 15 definites, with someone standing by to take the last place and so fill our four lawns. Then disaster struck. In the next 72 hours three people dropped out due to injury. Non-trivial injuries, too, including a broken thumb.
So we started on Saturday morning with 12 players. But you know what they say, it's quality that counts, not quantity. Nevertheless, everyone seemed to have a decent time anyway (and let's face it, there were a few good quality games played during the two days).
Just to vary things a little, we started the tournament with the presentation of the trophy, and followed it by playing the games. Or to be perfectly honest, we presented the trophy to last year's winner Mark Homan before we kicked off this year's event (it had been lost when he won it last May). He was a good chap, did the right thing and handed it back straight away. As Mark said, he is probably the only person to have held the trophy for a year and never had to clean it!
Format was Egyptian with a variable starting index dependent upon handicap, and the first round was drawn randomly but with the lower and higher handicaps separated to avoid large disparities appearing too early. In this format the winner is the player who increases his index the most, rather than the one who has the highest index at the end. Games were limited to two hours followed by six Wharrad turns. Strictly speaking, this format is contrary to tournament regulations (it should be 1½ hours and 12 Wharrad turns) but in the six years I have been running this tournament the arrangement has proved almost universally popular, and has been taken up by at least two other clubs. We did have a complainant this year, however, who stated loudly that Wharrad turns encouraged negative play at the end of a game; it is interesting, though, that his actions during his own Wharrad turns convinced everyone other than himself that the reverse is true.
Alan Edwards won all four of his games on day 1, establishing a lead which he simply increased on day 2 to win the tournament with a score of +21 points. Second was Martin Leach on +13, and third, playing in his first advanced tournament, was Nick Steiner. Alan received the Roy Alford trophy and an engraved glass goblet. Nick, for such a good showing for an inexperienced player, received the Manager's Special Prize of a bottle of Croquet aperitif.
Report and photos by Colin Hemming
---
---
| | | |
| --- | --- | --- |
| May 2-3 2009 | Colchester | Spring Weekend Handicap Tournament |
With only 13 entrants, it looked as though the 4 lawns at Colchester were going to be sparsely populated during the weekend. Fortunately, a number of local members were happy to come along for periods ranging from one session to 2 days to help swell the numbers, and the manager had to fill in whenever numbers became odd. This meant that the lawns were full for most of the time. The only obvious drawback to this arrangement was that the manager, normally the most mild-mannered and likeable of men, became stressed to the point of extreme grumpiness, not to say downright rudeness, when having to play as well as manage.

Gerry Varndell (right)
receiving the trophy
from Colin Hemming
He should have been prepared for his games to be interrupted, of course: it is a well-known fact that no croquet player is capable of following the simplest written instruction, and that most consider the straightforward entry of a result on to a piece of paper a challenge for the most creative and undecipherable way of doing so; if so prepared, he would not have been disappointed. He is nevertheless grateful to all of the players for following his (verbal) instructions regarding bisque markers: he would probably not have made it through the weekend if any had been replaced in the box upside-down.
Jonathan Hills (one of the part-timers) played a remarkable shot on the Saturday afternoon: hampered after running 2-back he felt constrained to play the next shot lying flat on his back (feet pointing towards 3-back) with the mallet held somewhere over his left shoulder. Quite why he did this is not entirely clear: something to do with being the only way he could see the point of contact between mallet and ball. Earlier in the day Neil Chalmers had been using his mallet as a back-scratcher (not during the striking period, I hasten to add). Both incidents had spectators scrambling for cameras and camera-phones but unfortunately no-one was quick enough to record either incident for posterity. On the Sunday Georgeen Hemming achieved a remarkable double, winning both her games on a "Golden Hoop". Greatest number of games was played by George Woolhouse, playing no fewer than 10 over the three days.
So much for the highlights, now the results. Winner was Gerry Varndell, winning 5 games out of 6, second was Nick Steiner winning 6 out of 8 and third Georgeen Hemming winning 4 out of 6.
Colin Hemming
---
---
---
---
| | | |
| --- | --- | --- |
| March 31 2009 | Sudbury | "Clochemerle" celebrations |
On the 31st March at 2.00 pm, the new Disability Lavatory/Washing facility extension to the Sudbury (Unity) Croquet Pavilion will be opened with suitable "Clochemerle" celebrations by gaslight!
The Sudbury (Unity) Croquet Club is situated off Quay Lane, Sudbury, Suffolk, [opposite the Cricket ground]. Parking is available a few yards away at the Quay theatre.
Beside the Press, there will be members of SAS [Success after Stroke], who will receive croquet coaching, and representatives from sponsors e.g. "Awards for All" [Lottery] £8,000, West Suffolk LSP £1,500, Babergh DC £2,000, Sudbury Town Council £150 and Members of the Unity Croquet Club Trust £6,000.
The person opening the new extension will be Jennifer Strover, who featured on television in November 2004 after winning £12,650 from William Hill to celebrate her mother-in-law's 100th birthday. Mother-in-law may also be present. Hopefully, you won't be "there from Monday to Saturday" like the three old ladies in the *limerick!* "Oh dear, what can the matter be?".
Paul Strover
---
---
| | | | |
| --- | --- | --- | --- |
| March 2009 | Leighton Linslade | Newsletter ( 234 kb) | John Cundell |
---
| | | | |
| --- | --- | --- | --- |
| February 2009 | Wrest Park | Newsletter ( 440 kb) | John Bevington |
---
---
| | | | |
| --- | --- | --- | --- |
| January 2009 | Leighton Linslade | Newsletter ( 335 kb) | John Cundell |
---
---
News archive
---